A short-term gold downtrend continues. Yesterday, traders tested the Intermediary Zone 1790 – 1788. I recommended entering sales in the IZ according to the pattern to update the November 30 low. Now the price is trying to break out the Target Zone 1778 – 1774. In case of a successful breakout, the November 30 low will be updated, and then the Gold Zone 1759 – 1757 will be reached.
To enter gold purchases, it is required to hold the Target Zone, and then break out the trend border at the level of 1790. In this case, the buy target will be the upper Target Zone 1811 – 1807. Based on this, it is possible to close part of the sales in the IZ 1790 – 1788 at current prices.
XAUUSD trading ideas for today:
Hold part of sell trades entered in Intermediary Zone 1790 – 1788.
TakeProfit: 1771.
StopLoss: at the breakeven.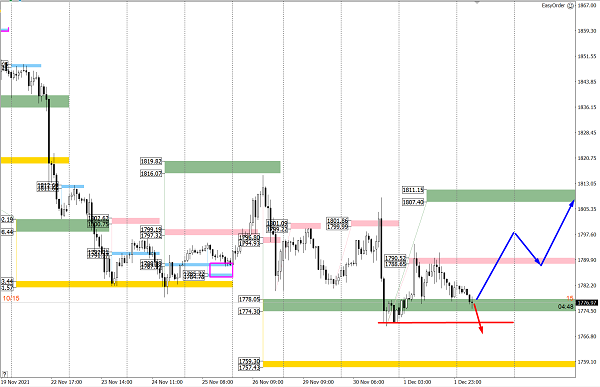 Myanfx-edu does not provide tax, investment or financial services and advice. The information is being presented without consideration of the investment objectives, risk tolerance, or financial circumstances of any specific investor and might not be suitable for all investors.

Go to Register with LiteForex Platform

Financial Trading is not suitable for all investors & involved Risky. If you through with this link and trade we may earn some commission.