Despite regulation restrictions, the popularity of cryptocurrencies has been growing over the years. We all have heard about Bitcoin, Ethereum, and Litecoin. Still, there are other digital assets that can provide investors with exciting opportunities. ZEC is one of them.
Zcash is considered a promising token with a high level of anonymity. It's the first open-source digital asset based on a blockchain. The coin appeared on October 28, 2016 and currently has a market cap of $2.636 billion dollars. The total possible Zcash supply is 21 million coins. Bitcoin's framework became a foundation for Zcash, which is why both coins have many things in common. Still, their value differs significantly – BTC has broken above $65,000, while ZEC is still slightly over $200. What determines the price of Zcash? How much will Zcash be worth?
Zcash price prediction is not an easy thing. In this guide, we will consider not only historical price movements but predictions of ZEC analysts. To make your future investing more successful, we will highlight factors that affect the coin's market price, so you will be able to make your own Zcash price forecasts. Will the price of Zcash go up? Let's find out!
Zcash: What Is Inside?
Before we consider price movements, let's answer one simple question – what is Zcash? Zcash or ZEC is a cryptocurrency built on a decentralized blockchain that includes open-source code. That is its main similarity with Bitcoin. Another thing Zcash shares with BTC is the cap. Both cryptocurrencies have a limited offer of 21 million units.
However, ZEC, as a privacy coin, takes further steps to protect its users. The system was developed to provide users and their transactions with anonymity. ZEC increases privacy by applying zero-knowledge proofs (zk-SNARKs). It allows users to validate transactions without disclosure of information that could affect the user's privacy. At the same time, the ZEC coin has an exciting feature. It allows users to share address and transaction information they can select to comply with audits and regulations.
According to its developers, ZEC is built on strong science. Let's talk more about ZEC addresses. They are divided into two types:
Z-addresses are private, while t-addresses are considered transparent. There are four transaction types between these kinds of addresses. Two address types are interconnected. You can transfer funds between both address types. The only requirement is to be aware of the privacy implications.
The key advantages of Zcash are low-rate transactions, the anonymity of users and transactions, disclosure of payment data to a third party, transaction expiration, and multiple signatures for transactions.
The main factor that contributed to the development of cryptocurrency is privacy. ZEC submits a high degree of it and can be called a "leading privacy" coin. Yet, this cryptocurrency hasn't reached the highs of BTC. What is Zcash's future? We'll address that next.
The Price History of ZEC: Focus on 2021
Although there are many expert forecasts, it's vital to be able to predict the price direction independently. One of the most frequently asked questions is, "why is Zcash going up?" Before you forecast a future Zcash trend, look at the historical price movement.
The development of Zcash dates back to the creation of ZeroCash cryptographic protocol, which was supposed to become a supplement of well-known Bitcoin. As the developers of Zerocash couldn't agree with Bitcoin founders, a new cryptocurrency, Zcash, was formed.
This digital currency was supposed to keep the ideology of ZeroCash but use a protocol separated from Bitcoin. On October 28, 2016, the new Zcash cryptocurrency was officially released. The launch of the private ZEC coin attracted a lot of attention. As a result, its price skyrocketed to around $6,000. However, later it balanced in the area of $40-70.
According to Coinmarketcap, ZEC is the 63rd largest cryptocurrency worldwide. Still, despite its functionality, it's not among the 15 largest digital assets. In 2018, the price of ZEC was around $900. In 2019, it has fluctuated within a broad range of $27-$124. In 2020, ZEC was between $25 – $100. 2021's ZEC price has fluctuated between $64 and $370. To understand the reasons behind the low value of ZEC, let's consider historical price movements.
It's not a secret that the spikes in the price of cryptocurrencies mostly occur due to upgrades in their blockchain or because of cooperation agreements. The same factors led to Zcash's growth.
The first significant event happened in May 2017. Coin developers agreed with JPMorgan to add privacy technology of Zcash to the JPMorgan blockchain platform. At that time, ZEC coin's capitalization and market value reached the top and led the currency to the top-10 crypto assets. In June 2017, ZEC traded near $400.
The all-around crypto popularity caused a further rise at the beginning of 2018. The price was around $800. Later, the crypto boom effect calmed down, and Zcash returned to its normal rate.
The next significant upward movement was in June 2019, when the price climbed above $100. The rise could be caused just by the strength of bulls who tried to push Zcash from its lowest level since 2017.
Later the price increased in February 2020. However, bulls were not strong enough to keep the price at highs. And it was expected. The spread of COVID-19 crashed the market. As a result, ZEC plunged below $25 in March 2020. In August 2020, Zcash was pushed to $100. Although ZEC lost in value in September 2020, this surge helped the cryptocurrency move from previous lows.
ZEC protocol went through a vast number of upgrades. Still, halving became one of the most important events of 2020. Halving is a standard procedure for cryptocurrencies. However, it has an impact on Zcash's future value for sure. On November 28, ZEC underwent halving. It meant that the reward of ZEC miners was reduced twice from 6.25 to 3.125 ZEC per block. As anticipated, the event caused a fall in price, but the coin managed to recover quickly.
After a challenging year driven by extreme price fluctuations, starting January 2021, the price of ZEC began a strong uptrend, reaching a high of $120. February 2021 saw a continuation of the upward movement, with ZEC trading around $200. By the end of February, the price had fallen. However, the trend recovered at the end of March. The price began rising after the U.S. Federal Reserve announced an open-ended asset purchase program for global markets post-Covid. The ZEC price reached another high of $299 on April 17th after the European Union dumped a decentralized solution. In May, it peaked at $318.92 due to the news that Dogecoin might witness a fall.
However, it crashed back down to around $100 in June 2021, following several government crackdowns. The downward movement continued till July 2021. On the first day of September, the ZEC price rose to $151.63 and then to $176.05 on the 6th of September owing to the El-Salvador cryptocurrency regulation move, when the country passed Bitcoin as a legal tender. However, the uptrend was short. ZEC dropped to $111.75 due to the Chinese-based property developer Evergrande's crisis on September 21st and then fell again by the end of the month due to China's crackdown on cryptos. The new uptrend began in October. Bitcoin's surge above $60,000 pushed Zcash above $200.
On November 21st, the cryptocurrency was the biggest gainer as the Electric Coin Company shared plans for Zcash development for the next three years. A major plan is to move Zcash from proof-of-work to proof-of-stake. It will contribute to reducing downward pressure on Zcash's market value.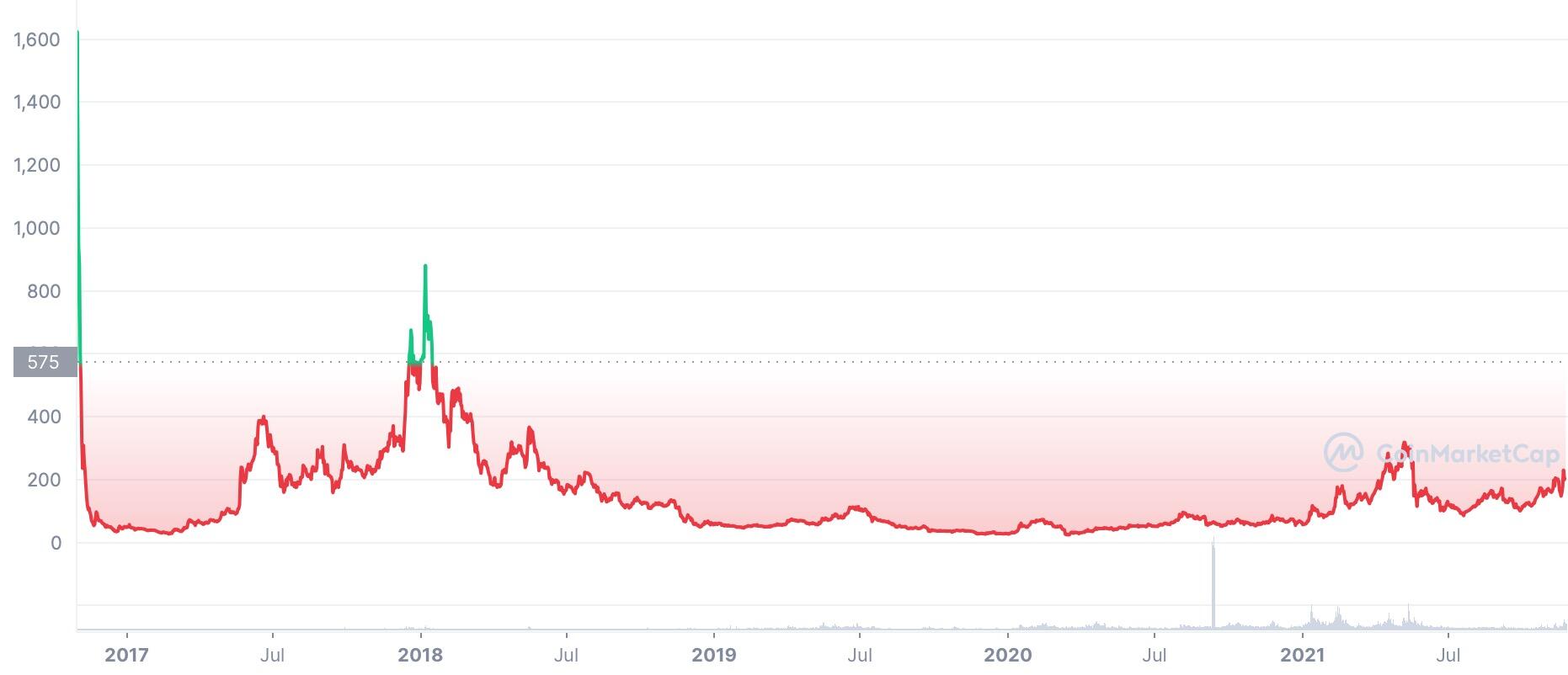 Myanfx-edu does not provide tax, investment or financial services and advice. The information is being presented without consideration of the investment objectives, risk tolerance, or financial circumstances of any specific investor and might not be suitable for all investors.

Go to Register with LiteForex Platform

Financial Trading is not suitable for all investors & involved Risky. If you through with this link and trade we may earn some commission.